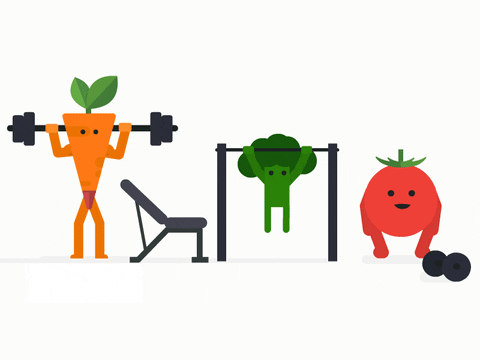 In January,  Registry Partners launched its first ever "Commit to be Fit" program. The purpose of the program was to encourage more physical activity since our careers require so many hours sitting at the computer. Commit to be Fit offers movement challenges and a weight loss challenge that team members can participate in. The movement challenges award prizes for participation each month and the weight loss challenge has one Grand Prize that will be awarded at years end – a 5-night Celebrity Cruise, with stops in Key West and Cozumel.
So far the program has been a huge success. Thirty-six percent of our workforce has enrolled in the Commit to be Fit journey and staff are welcome to enroll any time during 2019. The level of commitment during the first quarter of the program has been amazing.
Quarterly Progress Report:
January:
January started off with a "Get Moving" challenge … easing into the program and everyone getting acclimated to increasing their activity levels.  
There were two challenges in January. One challenged the team to complete 26,000 steps by January 14th and the other challenged the team to reach 5,000 steps daily from January 21st to January 31st.  
Get Moving Challenge Results

– 51 participants met the challenge.  In total

4,071,797 steps were completed

which equals

1,694.70 miles

. The lucky winner of the Get Moving challenge was

Olivia Hall

.

5,000 Steps Daily Results

–

Ebbony Ramos

was the winning stepper of this challenge.
February:
February provided some friendly competition with its Moderate or High-Intensity challenges. The goal for the Moderate Intensity group was to achieve 840 active minutes of exercise or 30 minutes per day. The goal for the High-Intensity group was to achieve 2100 active minutes of exercise or 75 minutes per day.
Moderate Intensity Challenge Results:

13 participants met the challenge. The winner of the challenge was

Margaret (Kathy) Mathews.
High-Intensity Challenge Results:

2 participants met the challenge. The winner was  

Eric Vaughn.
February also included a 28-day plank challenge – starting with a 10-second plank and working your way up to a 90-second plank.
March:
March included a "Walk around Cozumel" challenge – no this doesn't mean our entire team traveled to Cozumel to walk although that would have been amazing.  The distance around Cozumel is 70 miles so the team was challenged to walk 70 miles during the month of March.
Walk Around Cozumel Challenge Results:

17 participants met the challenge. The winner was

ReNetha Thompson

with a total of 86.38 miles.
March also included a 30-day squat challenge starting at 50 squats and working up to 250 squats.
Weight Loss Challenge Updates: There are 41 participants to date in the weight loss challenge.
So far the weight loss participants have lost a total of 222.2 pounds with the top percentages of weight loss achieved so far:

11.61%, 9.01%, and 7.91%.

 
Commit to be Fit "Chatter" – what our team is saying about the program:
"Commit to be Fit helped me renew my personal commitment to lose weight and be more active. It's fun to participate in the challenges, even if I'm at the back of the pack! I love that Registry Partners is supporting us and encouraging us to live healthier lifestyles." – Rebecca W.
"I think the Commit to Fit program is fantastic!  I have to say that I have found myself to be more competitive than I thought I was.  It really helps that everyone can see your progress as well. If there are days that I don't feel like moving I do anyhow because I don't want to be last.  I appreciate all the hard work everyone has put into this program to help make us all healthier people!!– Julie H.
"Commit to be Fit is a great program. It helps keep me motivated to exercise and lose weight to keep me from having diabetes." – Renetha T.
We look forward to what the next quarter holds for us!  We are incredibly proud of the activity our team has completed and encourage all team members to give it a try and "get moving".